Bandes dessinées Art book
26 produits trouvés
Boris Vallejo & Julie Bell's Fantasy 2017 Calendar
How to Read Nancy: The Elements of Comics in Three Easy Panels
Anne Taintor 2013 Calendar
Soy un artista
El libro perfecto para todos aquellos niños que disfrutan haciendo arte. Al protagonista de \"Soy un artista\" le encantan los colores, las formas, las texturas y TODO lo que le inspira: sus calcetines, lo que guarda en...
Plus d'infos
Canviem de casa
Canviar de casa sempre fa por. Deixar la que ha sigut casa teva fins llavors i allunyar-te de la gent que estimes és trist. Per. Marta Altés ens fa aprendre que començar de zero pot esdevenir una aventura, i que all....
Plus d'infos
Mi nueva casa
Mudarse siempre da miedo. Dejar la que ha sido tu casa y alejarte de tus seres queridos es triste. Pero Marta Altés nos enseña que empezar de cero puede ser una aventura, y que lo nuevo, aunque de miedo, puede ser...
Plus d'infos
Zawa - Zawa : The Treasured Art Works of Ashley Wood
Tintin and Alph-art.
Tintin and Alph-Art This book gives a unique insight into the work Herge had done on the last Tintin book before his death. At the end, Tintin is about to be cast into a living sculpture by a mysterious enemy - one last...
Plus d'infos
Astérix the Mansions of the Gods (version anglaise)
Book by Goscinny Rene
Plus d'infos
Astérix And The Great Crossing (version anglaise)
Book by De Goscinny Rene
Plus d'infos
Astérix chez les Helvètes (version anglaise)
Asterix in Britain (version anglaise)
Book by Goscinny
Plus d'infos
Astérix and the Soothsayer (version anglaise)
Asterix and the Soothsayer
Plus d'infos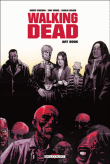 Art book
Série Walking Dead - Tony Moore (Dessinateur) Charlie Adlard (Dessinateur) Robert Kirkman (Scénario) - Paru le 16/11/2011 chez Delcourt
Plus d'infos
Mumin - Vol 1: La col·lecció completa dels còmics de Tove Jansson
OTTO el gos carter: Un llibre per buscar-hi coses
Animales
­32 imágenes en un libro gigante! Bestiario ilustrado por Angela P. Arrhenius. 32 animales diseñados en formato de poster.
Plus d'infos
Formas
Los libros infantiles de John J. Reiss se convirtieron en obras de referencia para varias generaciones de niños a partir de la década de 1970. Blackie Little Books ha conseguido recuperar las ediciones originales de...
Plus d'infos
Walking dead Art book
Charlie Adlard - Art Book

De Pins Art book
Arthur De Pins (Auteur) - Paru le 14/09/2007 chez Fluide Glacial-Audie
Plus d'infos

Cromwell art book
Cromwell (Dessinateur) - Paru le 01/12/2011 chez Akileos Eds
Plus d'infos
JOURNEY OF CUBEVILLE. : A Dilbert book
Book by Adams Scott
Plus d'infos
Dinosaurs: My Beastly Activity Book
Mi Primer Gran Libro De Los Colores / My First Jumbo Book of Colors
Book by Diaz James
Plus d'infos
Tramp: Or the Art of Living a Wild and Poetic Life (Seagull Books - The Norwegian List) (Hardback) - Common
The first step in any trip or journey is always a footstep - the brave or curious act of putting one foot in front of the other and stepping out of the house onto the sidewalk below. This title contemplates what this...
Plus d'infos