Bandes dessinées Battle
24 produits trouvés

Battle Royale
Série Battle royale - Koushun Takami (Auteur) Taguchi (Dessinateur) Takami (Scénario) - Paru le 10/12/2003 chez Soleil
Plus d'infos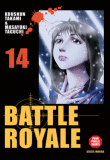 Battle Royale
Série Battle royale - Koushun Takami (Auteur) Masayuki Taguchi (Dessinateur) Taguchi (Dessinateur) Takami (Scénario) - Paru le 26/04/2006 chez Soleil
Plus d'infos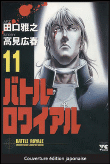 Battle Royale
Série Battle royale - Koushun Takami (Auteur) Masayuki Taguchi (Dessinateur) Taguchi (Dessinateur) Takami (Scénario) - Paru le 28/09/2005 chez Soleil
Plus d'infos

Battle Royale
Série Battle royale - TAKAMI-K+TAGUCHI-M (Auteur) Taguchi (Dessinateur) Takami (Scénario) - Paru le 22/02/2006 chez Soleil
Plus d'infos
Battle Royale 15
Battle Royale,15 editado por Ivrea
Plus d'infos
Trick Power Battle T02
Trick Power Battle T01
Trick Power - Volume 1
Plus d'infos
Battle Royale 6
Battle royale editado por Ivrea
Plus d'infos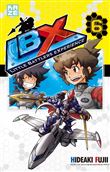 LBX Little Battlers eXperience
Série Little battlers experience - FUJII-H (Auteur) Hideaki Fujii (Dessinateur) Level 5 (Scénario) - Paru le 22/10/2014 chez Kaze
Plus d'infos
Superman Adventures: The Never-Ending Battle
Superman Adventures: The Never-Ending Battle
Plus d'infos

Cinebook recounts - tome 1 Battle of Britain
Bernard Asso (Auteur) Francis Bergèse (Illustration) Bergèse (Dessinateur) Asso (Scénario) - Paru le 18/03/2010 chez Cinebook
Plus d'infos
Biggles recounts, Tome 2 : Battle of Britain (1940)
Batman: Battle for the Cowl by Daniel, Tony (2010) Paperback
Cinebook recounts - tome 1 Battle of Britain (01)
Battle of Britain The forces of the 3rd Reich surge into France. The Panzer Division's speed takes the Allies by surprise, and French forces are soon defeated, while the British Expeditionary force is blocked off in the...
Plus d'infos
Batman Classic: Battle in Metropolis by Sazaklis, John (2013) Paperback
Batman Incorporated: No. 12, The Final Battle Begins!
Black Hole Battle! (Space Penguins) by Lucy Courtenay (7-Jul-2014) Paperback
Battle for Arcanum (Magic Zero) by Sniegoski, Thomas E., Golden, Christopher (2013) Paperback
Batman Battle For The Cowl Companion TP by Joe Harris (2009-11-17)
Batman Battle For The Cowl The Network Issue 1 of 1 ) One Shot July 2009
Batman Battle For The Cowl TP by Various (Artist), Tony S. Daniel (5-Nov-2010) Paperback
Batman Classic: Battle in the Batcave by Lemke, Donald (2014) Paperback
Como dibujar anime 4 escenas de combate y accion / How to Draw Anime 4 Mastering Battle & Action Moves
The Black Hole War: My Battle with Stephen Hawking to Make the World Safe for Quantum Mechanics by Susskind, Leonard (2009) Paperback