Bandes dessinées Comic Strips
1 015 produits trouvés
The Utter Zoo: An Alphabet by Edward Gorey
Book by Edward Gorey
Plus d'infos
The Complete Peanuts Volume 20: 1989-1990
In this volume, Peanuts celebrates its 40th birthday! Snoopy and Spike decline to compete in an ugly dog competition, entering their brother Olaf instead. Charlie Brown and Marcie spend quality time together at sleepaway...
Plus d'infos
The Perry Bible Fellowship
La soupe aux Schtroumpfs, tome 10
Les technopères, n° 2 : L'école pénitentiaire de Nohope
Aux commandes d'un vaisseau intersidéral, un vieil homme aux cheveux blancs et à la peau parcheminée se souvient. Il s'appelle Albino. Il se souvient de sa jeunesse, quand il n'était encore qu'un jeune garçon à la...
Plus d'infos
The Complete Peanuts 1985-1986 : Volume 18
The Complete Peanuts reaches the go-go mid-1980s with this volume: 'mallies', 'punkers' (Snoopy with a mohawk!), killer bees, and Halley's Comet. The gang go to 'rain camp' and 'survival camp', the World War I Flying Ace...
Plus d'infos
The Complete Peanuts 1981-1982 : Volume 16
The Complete Peanuts marches into the 1980s as Snoopy's brother Spike is drafted into the Infantry and a second brother, 'Marbles,' takes his bow. Also in this volume, Peppermint Patty witnesses the 'butterfly miracle,'...
Plus d'infos
The Complete Peanuts 1983-1984 : Volume 17
This volume of The Complete Peanuts is particularly romance-heavy as the Charlie Brown / Peppermint Patty / Marcie triangle heats up; love blossoms between two of the 'Beagle Scout' birds; and Linus is still not Sally's...
Plus d'infos
The Complete Peanuts 1979-1980 : Volume 15
This volume of The Complete Peanuts features the long, surprisingly dramatic sequence in which a grievously ill Charlie Brown checks himself into a hospital while his friends worry. But the rest of the stories in this,...
Plus d'infos
The Complete Peanuts Volume 19: 1987-1988
In this latest collection, romance is in the air. Charlie Brown's attempt at flirting in class sends him to the school nurse, while Linus is thwarted in his attempt to woo 'Lydia' of the many names. Other storylines...
Plus d'infos
UNIVERSO DC:JSA STARS STRIPE
Comics Strips, Une histoire illustrée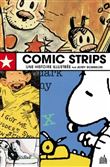 Comics : les strips illustrés
Jerry Robinson (Dessinateur) - Paru le 13/03/2015 chez Urban Comics
Plus d'infos
MAD AUTEUR Don Martin tome 1
Mad - Auteur Don Martin - Volume 1
Plus d'infos
[Spiderman Newspaper Strips: Vol. 2] (By: Stan Lee) [published: August, 2011]
Dilbert 2 : bienvenue dans le monde merveilleux de l'informatique
Les 365 jours du Chat, Tome 2.
Dilbert 8. Honni soit qui stock-option
Savoureux, comme toujours. Chaque tome de la saga de Dilbert est une sorte de bonbon acidulé, sucré et juste assez acide pour que l'on ait envie de passer au suivant, pour à nouveau ressentir ce doux frisson capable...
Plus d'infos
Mug cake Snoopy
Garfield Comics - tome 4 - Petit chat-chat Noël
Garfield & Cie - tome 11 - Charlatan (11)
Garfield Comics - tome 5 - Super Jon
Snoopy et le petit monde des peanuts
Garfield - tome 52 - Bête de scène
Garfield, tome 35
Garfield & Cie - tome 8 - Agent secret (8)
Garfield & Cie - tome 4 - Chahut de Noël (4)
Garfield & Cie - tome 3 - Catzilla (3)
Garfield & Cie - tome 7 - Un conte de Noël (7)
Garfield, tome 33 : Garfield a une idée géniale
Garfield & Cie - tome 12 - Lasagnes et castagnes (12)
Mafalda, Tome 10 : Le club de Mafalda
Mafalda, Tome 9 : Les vacances de Mafalda
Mafalda, Tome 11 : Mafalda s'en va
Mafalda, Tome 6 : Le petit frère de Mafalda
Mafalda, Tome 12 : Il était une fois Mafalda
Mafalda, Tome 8 : Mafalda et ses amis
Raymond Leblanc, le magicien de nos enfances : La grande aventure du journal Tintin
Le Chat
Garfield - tome 62 - Bonne pâte
Garfield - tome 61 - Garfield perd la boule
Garfield Poids Lourd, Tome 7 :
Garfield Poids Lourd, Tome 8 :
Garfield - tome 59 - Chat geek
Garfield - tome 5 - Moi, on m'aime (5)
Garfield - tome 2 - Faut pas s'en faire
Garfield - tome 1 - Garfield prend du poids
Garfield - tome 57 - Crazy Kart
Garfield - tome 60 - Haine du lundi (La)
Garfield - tome 58 - Félin pour l'autre
Garfield - tome 3 - Les yeux plus gros que le ventre (3)