Bandes dessinées Comics World
23 produits trouvés
Snoopy's America
Book by hill frank
Plus d'infos
Snoopy's Band
Snoopy's Baseball Game
Snoopy's Birthday Party
Book by Charles M Schulz
Plus d'infos
Snoopy's Land of Make Believe
Snoopy's Talent Show
Bizarro World
Worlds Finest Book 10 Batman Superman
Stormwatch: Change the World
Ultimate X-Men Volume 3: World Tour TPB
Batman Beyond Vol. 1: Brave New Worlds by Dan Jurgens (March 15,2016)
Batman: The World of the Dark Knight with 2 Collectable Prints
[(Batman: The World of the Dark Knight )] [Author: Daniel Wallace] [Jul-2012]
Batman: The World of the Dark Knight First appearing in the pages of \"Detective Comics\" in 1939, Bruce Wayne vowed to avenge his parents' murder and rid the world of evil by becoming the fearless caped crusader known...
Plus d'infos
Disney Descendants Wicked World Shorts Cinestory Comic: Vol. 1
Join Mal, Evie, Carlos, Jay, Ben and all-new characters as their stories unfold in Disney Descendants Wicked World Wish Granted animated shorts. There's no shortage of magic, mystery, and mischief at Auradon Prep....
Plus d'infos
Wwe: Know Your Role : World Wrestling Entertainment Roleplaying Game
War Of The Worlds
The World is Mine 1-14 Complete Set [Japanese]
\"The World is Mine\" in Japan, Comic Set [Japan Import]
Plus d'infos
La creacion del mundo/ The Creation of the World
La creacion del mundo editado por Edelvives
Plus d'infos
Warbirds of World War II
Garfield World Wide (Garfield (Numbered Paperback)) by Jim Davis (3-Mar-1988) Paperback
(It's a Magical World) By Watterson, Bill (Author) Paperback on 01-Sep-1996
Grimmy: It's A Dog Sniff Dog World by Mike Peters (October 13,2000)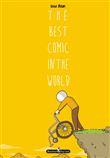 The best comics in the world
Issaboun (Dessinateur) - Paru le 28/04/2017 chez Monsieur Pop Corn
Plus d'infos