Bandes dessinées Death of
10 produits trouvés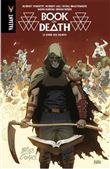 Book of death
Robert Gill (Dessinateur) Doug Braithwaite (Dessinateur) Robert Venditti (Scénario) - Paru le 28/04/2017 chez Bliss Comics
Plus d'infos
Doggybags, Tome 9 : Death of a Nation
Darwin's diaries - tome 2 Death of a beast (02)
Darwin's Diaries: Death of a Beast v. 2 With the beast killed by the soldiers, the strike ends and things seem to return to normal. But there are still some unanswered questions and lingering tensions, especially towards...
Plus d'infos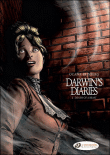 Darwin´s diaries - tome 2 Death of a beast
Série Darwin´s diaries - Edouardo Ocana (Auteur) Sylvain Runberg (Auteur) Eduardo Ocana (Dessinateur) Sylvain Runberg (Scénario) - Paru le 02/02/2012 chez Cinebook
Plus d'infos
[ [ [ The Secret Triangle: Of Life, Death, and Evolution [ THE SECRET TRIANGLE: OF LIFE, DEATH, AND EVOLUTION ] By Lynne, Rebecca ( Author )Oct-12-2011 Paperback
Pathfinder Module: City of Golden Death (Pathfinder Modules) by Frost, Joshua J. (2010) Paperback
Batman Detective Comics Volume 1: Faces Of Death TP by Tony S. Daniel (2013-04-18)
Batman: Detective Comics Vol. 1: Faces of Death (The New 52) by Daniel, Tony S. (2013) Paperback
[(Batman and Robin: Death of the Family Volume 3)] [ By (artist) Mick Gray, By (author) Patrick Gleason ] [June, 2014]
A direct tie-in to Scott Snyder and Greg Capullo's \"Death in the Family\" Batman story comes the disturbingly creepy and psychological thriller of Batman and Robin by the all-star team of Peter Tomasi and Patrick...
Plus d'infos
[BATMAN DETECTIVE COMICS: FACES OF DEATH, VOLUME 1 (BATMAN DETECTIVE COMICS #01) BY (Author)Daniel, Tony S]Hardcover(Jun-2012)