Bandes dessinées From the
71 produits trouvés
From the darkness

Tales from the crypt
Série Tales from the crypt - Marc Davis (Dessinateur) - Paru le 10/05/2000 chez Echo Des Savanes
Plus d'infos

Tales from the crypt
Série Tales from the crypt - Marc Davis (Dessinateur) - Paru le 07/06/2000 chez Echo Des Savanes
Plus d'infos

Tales from the crypt
Marc Davis (Dessinateur) - Paru le 16/02/2000 chez Echo Des Savanes
Plus d'infos

Tales from the crypt
Marc Davis (Dessinateur) - Paru le 16/02/2000 chez Echo Des Savanes
Plus d'infos

Tales from the crypt
Marc Davis (Dessinateur) - Paru le 09/09/1999 chez Echo Des Savanes
Plus d'infos

Tales from the crypt
Marc Davis (Dessinateur) - Paru le 09/09/1999 chez Echo Des Savanes
Plus d'infos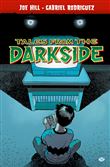 Tales from the darkside
Joe Hill (Scénario) Gabriel Rodriguez (Dessinateur) - Paru le 30/06/2017 chez Milady Graphics
Plus d'infos

Tales from the crypt
Série Tales from the crypt - Crandall (Dessinateur) - Paru le 25/10/2000 chez Echo Des Savanes
Plus d'infos

Tales from the crypt
Série Tales from the crypt - Crandall (Dessinateur) - Paru le 11/10/2000 chez Echo Des Savanes
Plus d'infos

The girl from Ipanema
Hermann (Dessinateur) Yves (Scénario) - Paru le 05/04/2012 chez Lombard
Plus d'infos

Tales from the crypt
Collectif (Auteur) - Paru le 07/06/2012 chez Akileos Eds
Plus d'infos

The man from Washington
Série Lucky Luke - Achdé (Dessinateur) Laurent Gerra (Scénario) - Paru le 07/03/2013 chez Cinebook
Plus d'infos

Tales from the crypt
Série Tales from the crypt - Collectif (Auteur) - Paru le 03/10/2013 chez Akileos Eds
Plus d'infos

Tales from the crypt
Série Tales from the crypt - Collectif (Dessinateur) Bill Gaines (Scénario) Al Feldstein (Scénario) - Paru le 02/06/2016 chez Akileos Eds
Plus d'infos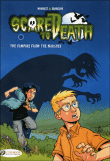 The vampire from the mar
Série Scared to death - Mauricet (Dessinateur) Vanholme (Scénario) - Paru le 20/03/2008 chez Cinebook
Plus d'infos
The Girl from Ipanema - tome 0 - THE GIRL FROM IPANEMA
Tales from the Crypt T4
Tales from the Crypt T3
Tales from the Crypt T1
Tales from the Crypt T2
Anthologie de récits d'horreur, Tales from de Crypt (anciennement The Crypt of Terror) était un bi-mensuel publié par EC Comics, le label indépendant américain de William Gaines, de 1950 à 1955. Vingt-sept numéros...
Plus d'infos
It Came from the the Far Side
Mutafukaz T0 It Came from the moon
FUGITIVE FROM THE CUBICLE POLICE (A DILBERT BOOK)

Tales from the crypt - Coffret Tome 05 à
Marc Davis (Dessinateur) - Paru le 01/01/2001 chez Echo Des Savanes
Plus d'infos
Cartoons from The New Yorker 2014 Wall Calendar
Cartoons from the New Yorker Weekly Planner 2013 Calendar
Tales from the Crypt, tome 8 : Sans les mains
Tales from the Crypt, tome 8 : Sans les mains Album - 7 juin 2000 de Davis (Auteur)
Plus d'infos
[Tales from the Crypt: Wickeder] [by: Stefan Petrucha]
Tales from the Crypt continues its popular style of parody in an all-new format! This time, the popular musical \"Wicked\" and the best-selling books associated with it can't hide from the Crypt-Keeper and his...
Plus d'infos
Life Lessons From Corrie Ten Boom ( Life Lessons from the Hiding Place / In My Father's House / Tramp for the Lord )
[The EC Archives: Tales from the Crypt Volume 4] (By: Bill Gaines) [published: November, 2013]
EC Archives, The: Tales from the Crypt Vol. 5 by Jack Davis (13-Nov-2014) Hardcover
The Zombie Survival Guide 2008 Calendar: Complete Protection from the Living Dead
75 years of Marvel Comics : From the golden age to the silver screen
Tramp, The (Stories from the Golden Age) by Hubbard, L. Ron (2011) Paperback
[(From the Mind of the Supermassive Black Hole)] [Author: Nadine Judith Lynch] published on (May, 2009)
Worth and Niccola Caivano are more than husband and wife. Long-married business-and sparring-partners, the Caivanos are always looking for the next exciting business venture. When they are invited to Cancun to meet up...
Plus d'infos
[From the Mind of the Supermassive Black Hole] (By: Nadine Judith Lynch) [published: May, 2009]
From the Golden Gate to Mexico City: The U.S. Army Topographical Engineers in the Mexican War, 1846-1848 (CMH pub)
[ THE GREAT SHARK HUNT STRANGE TALES FROM A STRANGE TIME BY THOMPSON, HUNTER S.](AUTHOR)PAPERBACK
The first volume of the bestselling Gonzo Papers
Plus d'infos
Ashi-girl: From the future for you!! 1-8 Set [Japanese]
\"Ashi-girl: From the future for you!!\" in Japan, Comic Set [Japan Import]
Plus d'infos
Dilbert: Fugitive from the Cubicle Police (A Dilbert Book) by Scott Adams (1998-09-18)
It Came From The Far Side by Gary Larson (13-Oct-1988) Paperback
It Came From The Far Side by Gary Larson (1986) Paperback
Garfield from the Trash Bin: Rescued Rejects & Outrageous Outtakes by Jim Davis (February 23,2010)
Dilbert: Still Pumped from Using the Mouse (A Dilbert Book) by Scott Adams (1996-08-26)
Tramp Art, Another Notch: Folk Art from the Heart by Clifford A. Wallach (2009-01-28)
Mandalay: Travels from the Golden City by Strachan, Paul (1995) Hardcover
Mandalay: Travels from the Golden City by Strachan, Paul (1995) Hardcover
New York City Baseball: The Golden Age, 1947-1957 Reprint edition by Frommer, Harvey (2013) Paperback
[ THE BATMAN VAULT A MUSEUM-IN-A-BOOK WITH RARE COLLECTIBLES FROM THE BATCAVE BY MANNING, MATTHEW](AUTHOR)HARDBACK
[ THE BATMAN VAULT A MUSEUM-IN-A-BOOK WITH RARE COLLECTIBLES FROM THE BATCAVE BY MANNING, MATTHEW](AUTHOR)HARDBACK
Plus d'infos
Flying from the Black Hole: The B-52 Navigator-Bombardiers of Vietnam by Robert O Harder (30-Aug-2013) Paperback