Bandes dessinées Highs
14 produits trouvés
Le high-tech

High risk class
Série Cédric - Raoul Cauvin (Scénario) Tony Laudec (Dessinateur) - Paru le 02/10/2008 chez Cinebook
Plus d'infos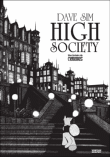 High society, une histoire de Cérébus
Dave Sim (Dessinateur) - Paru le 18/08/2010 chez Vertige Graphic
Plus d'infos

La vérité sur le High-Tech
Monsieur B. (Dessinateur) - Paru le 18/11/2009 chez Drugstore
Plus d'infos
High School of the Dead 2
Attention! Pas de version française! Polonais edition.
Plus d'infos
Cédric - tome 1 High Risk Class (01)
Cedric is a little 8-year-old boy, a grumbler with a big heart, who shares his life with his parents, his grandpa, his school, his mates, and Chen, the love of his life. It's not easy being a little boy! But Cedric works...
Plus d'infos
Monster High, Tome 2 : Rêves et hurlements
Monster High, Tome 1 : Rêves et hurlements
A Higher Standard by Doe, John (2000) Paperback
Monster High, Tome 1 : Je n'ai d'oeil que pour toi
Monster High, Tome 2 : Je n'ai d'oeil que pour toi
A story and games with Scooby-Doo - High-tech House of the Future

Slices of (mobile), A sociological study and manifesto on work-related high mobility
Leveugle (Dessinateur) Kaufmann (Scénario) - Paru le 13/11/2014 chez Loco
Plus d'infos
Tramp: Sagas of High Adventure in the Vanishing World of the Old Tramp Freighters by Michael J. Krieger (1986-08-01)