Bandes dessinées Histoire of
19 produits trouvés
The Whirligig of Time
Book by Biggle Lloyd
Plus d'infos
Biggles of the Fighter Squadron
Biggles of the Fighter Squadron: Number 1 of the Biggles Series by Johns, W.E. (2014) Paperback
Biggles recounts, Tome 2 : Battle of Britain (1940)
Cinebook recounts - tome 1 Battle of Britain (01)
Book by B Asso Bergese
Plus d'infos
The Metallic Muse: A Collection of Science Fiction Stories,
Biggles Works it Out A Story of Air Detective-Inspector Bigglesworth and His Comrades of the Air Police
[(Biggles of the Fighter Squadron)] [ By (author) W. E. Johns ] [March, 2014]
Peril in the skies! Well into the later stages of the First World War, Biggles and his fellow flyers are struggling to maintain supremacy over the enemy pilots determined to shoot them down. In this game of cunning, they...
Plus d'infos
Biggles Flies East: Number 8 of the Biggles Series by Johns, W.E. (2014) Paperback
Battle of Britain: Biggles Recounts 2 by Bergese, Francis (2008) Paperback
Biggles And The Cruise Of The Condor by Johns, W. E. (William Earle) (2004) Paperback
[(Papyrus : The Amulet of the Great Pyramid)] [By (author) Lucien De Gieter ] published on (June, 2015)
Drawn by strange cries coming from the necropolis at the foot of the pyramids, Papyrus comes face to face with Anubis, the god of the dead. The jackal-headed god, angered by a rash of grave robbing, orders the young...
Plus d'infos
Papyrus Vol.5: The Anger of the Great Sphinx by Lucien De Gieter (1-Mar-2012) Paperback
Biggles of the Fighter Squadron by W E Johns (2014-02-27)
Wind and Rain: The Life of Ikkyu by Miao You (November 19,2013)
Biggles Secret Assignments: Three More of Our Flying Hero's Classic Adventures by WE John Publications (2014-07-17)
The Queen Margot - tome 14 The age of innocence (14)
Book by Olivier Cadic Franois Gheysens
Plus d'infos
Darwin's diaries - tome 2 Death of a beast (02)
Darwin's Diaries: Death of a Beast v. 2 With the beast killed by the soldiers, the strike ends and things seem to return to normal. But there are still some unanswered questions and lingering tensions, especially towards...
Plus d'infos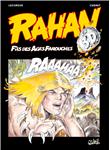 Rahan - Best of en 3D - L´Enfance et la mort de Rahan, et autres histoires
Série Rahan - André Chéret (Dessinateur) Roger Lécureux (Scénario) - Paru le 02/05/2013 chez Soleil
Plus d'infos