Bandes dessinées Of the stars
10 produits trouvés

Stars of the stars
Série Stars of the stars - Pénélope Bagieu (Dessinateur) Joann Sfar (Scénario) - Paru le 05/09/2013 chez Gallimard Bd
Plus d'infos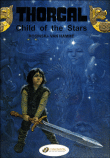 Child of the stars
Série Thorgal - Grzegorz Rosinski (Dessinateur) Van Hamm (Scénario) - Paru le 05/04/2007 chez Cinebook
Plus d'infos
Stars of the Stars (Tome 1)
in4. Broché.
Plus d'infos
Fist of the North Star 03.
Fist of the North Star 08.
Thorgal - tome 1 Child of the stars (01)
In the wild and inhospitable far north, in the land of Scandinavian myths and runic legends, Viking warriors discover a child in a space capsule. Leif Haraldson adopts him and gives him the names of his gods: Thorgal...
Plus d'infos
S. E. Hinton's Taming of the Star Runner

Valerian and Laureline - tome 17 Orphans of the Stars
Série Valérian et Laureline - Jean-Claude Mézières (Scénario) Pierre Christin (Dessinateur) - Paru le 13/07/2017 chez Cinebook
Plus d'infos
[(The Curse of the Golden City : The Path to the Fallen Stars)] [By (author) L D Nascimento] published on (December, 2012)
The Golden City. A legendary city known by many but searched by few, for it is said that a curse is laid upon those who venture the path to the riches of the undiscovered city. Until the location of three artifacts, that...
Plus d'infos
The Amazing Spiderman: Spidey Vs. Doctor Doom: Plus Spidey's Reunion with Uncle Ben & a Gallery of All-star Pin-ups! (Giant-size 350th Issue!) (Vol. 1, No. 350, August 1991) by Stan Lee (1991-01-01)