Bandes dessinées School
30 produits trouvés
New school

Sophie Scholl
Série Femmes en résistance - Pierre Wachs (Dessinateur) Régis Hautière (Scénario) Francis Laboutique (Scénario) Emmanuelle Polack (Scénario) - Paru le 15/10/2014 chez Casterman
Plus d'infos

New school
Dash Shaw (Dessinateur) - Paru le 19/11/2013 chez Ca Et La Eds
Plus d'infos
Spyder T03 Old school
SCHOOL RUMBLE 17
LAS AVENTURAS DEL INSTITUTO MÁS DIVERTIDO Y ALOCADO DE JAPÓN SIGUEN TRIUNFANDO ENTRE NUESTROS LECTORES.Eri está decidida a que Kenji le haga caso, por lo que empieza a imitar a Tenma? sin demasiado éxito. Sus celos...
Plus d'infos
SCHOOL RUMBLE 06
SCHOOL RUMBLE 10
íDESPUÉS DE ESTA SERIE, CUALQUIER INSTITUTO TE PARECERÁ ABURRIDO!Todo cambia y todo sigue igual en el instituto Yagami: los alumnos siguen yendo a la suya inmersos en sus amores, desencuentros y las más...
Plus d'infos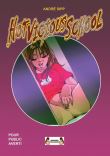 Hot vicious school
André Sipp (Dessinateur) - Paru le 01/07/2016 chez Rialto Editions Du
Plus d'infos
Spyder T03 Old school
Série Spyder - Sébastien Vastra (Dessinateur) Sébastien Latour (Scénario) - Paru le 24/08/2011 chez Delcourt
Plus d'infos
Hell School - tome 2 - Orphelins
Femmes en résistance, Tome 2 : Sophie Scholl
High School of the Dead 2
Attention! Pas de version française! Polonais edition.
Plus d'infos
Sentaï School, Tome 2 : L'école des héros
Crime School - tome 3 - Big Apeul
Crime School - tome 1 - La rentrée des crasses
The Technopriests, tome 1 : Techno pre-school
Techno Pre-school
Plus d'infos
¡Vamos al cole! / Let's go to school!
En este imaginario, el niño encontrará todas las palabras y frases necesarias para afrontar el colegio con seguridad, ya que constituyen el vocabulario básico que utilizan los profesores para desarrollar todos los...
Plus d'infos

New Rodeo Girls, suivi de Rose Garden school
Nicky (Dessinateur) - Paru le 22/10/2015 chez Dynamite Eds
Plus d'infos
Biggles Goes To School; The Story Of Biggles' Early Life & School Days
Pop va al cole / Pop Goes to School
Pop es un simpático dinosaurio multicolor al que le encanta ir al cole y jugar con sus amigos. En este libro el dinosaurio Pop te enseñará a contar del 1 al 10, íverás qué divertido!
Plus d'infos
Crime School - tome 2 - Bolos un jour, bolos toujours
PUTREN SCHOOL 3 LOS BUENOS, LOS MALOS, LOS SUPERASQUEROSOS
Weirdos From Another Planet! (Turtleback School & Library Binding Edition) (Calvin & Hobbes) by Watterson, Bill (1990) School & Library Binding
The Calvin And Hobbes Lazy Sunday Book (Turtleback School & Library Binding Edition) (Calvin & Hobbes) by Watterson, Bill (1989) School & Library Binding
The Big Blueberry Barf-Off! (Rotten School #1) by R. L. Stine (2008) Paperback
The Big Blueberry Barf-Off! (Rotten School) by R. L. Stine (1-Mar-2008) Paperback
Exploring Calvin And Hobbes (Turtleback School & Library Binding Edition) by Watterson, Bill (2015) Library Binding
Exploring Calvin And Hobbes (Turtleback School & Library Binding Edition) by Watterson, Bill (2015) Library Binding
The Revenge Of The Baby-Sat (Turtleback School & Library Binding Edition) (Calvin and Hobbes (Pb)) by Watterson, Bill (1991) Hardcover
The City Bunhill Burial Ground, Golden Lane, London: Excavations at South Islington Schools, 2006 (Molas Archaeology Studies) (MOLA Archaeology Studies) by Brian Connell (28-Jul-2010) Paperback