Bandes dessinées The cat
22 produits trouvés
Fritz the cat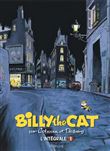 Billy the cat : intégrale
Série Billy the cat - Stephen Desberg (Dessinateur) Colman (Scénario) - Paru le 15/10/2014 chez Dupuis
Plus d'infos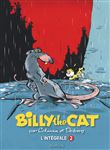 Billy the cat
Série Billy the cat - Stephen Desberg (Dessinateur) Colman (Scénario) - Paru le 13/11/2015 chez Dupuis
Plus d'infos

Fritz the cat
Robert Crumb (Dessinateur) - Paru le 07/05/2013 chez Cornelius Eds
Plus d'infos
FRITZ THE CAT. : Volume 1
Detectives T05 Frederick Abstraight - A Cat In The Barrel
BATMAN CLAWS OF THE CAT WOMAN TARZAN: Numero 03
Excelente estado.Formato grapa. Edicion en INGLES y en color de 1999. . Produit expédié de Barcelone (Espagne).
Plus d'infos
The bitch cat can't stand curiosity - Livre (Manga) - Yaoi
Kid comics, numéro 5, inclus Billy the Cat, tome 1
Philippe Geluck est maintenant une star. Avant la France, il l'était déjà en Belgique. Publié depuis près de dix ans dans Le Soir, le quotidien le plus vendu du Plat Pays, le Chat est un philosophe doté d'un humour...
Plus d'infos
BD Pirate : Billy the Cat, tome 2 : Le destin de Pirmin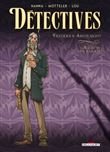 Detectives T05 Frederick Abstraight - A Cat In The Barrel
Série Détectives - Julien Motteler (Dessinateur) Herik Hanna (Scénario) - Paru le 20/01/2016 chez Delcourt
Plus d'infos
[ [ THE CURSE OF THE CAT PEOPLE (GARFIELD & CO. #02) BY(DAVIS, JIM )](AUTHOR)[HARDCOVER]
BILLY the CAT - L'intégrale - tome 1 - L'intégrale Colman - Desberg 1981 - 1994
BILLY the CAT - L'intégrale - tome 2 - L'intégrale Colman - Desberg 1995 - 1999
The Oatmeal 2016 Wall Calendar: How To Tell If Your Cat Is Plotting to Kill You-
Batman / Tarzan: Claws of the Cat-Woman by Marz, Ron (2000) Paperback
The Twelfth Garfield Fat Cat 3-Pack by Davis, Jim (2001) Paperback
¿Quién se esconde debajo del gato?/ Who Is Hiding Under the Cat?
¿De quién es ese hocico que asoma con un hueso tras la tortuga? Debajo de cada mascota hay otra escondida? íTe estoy viendo! íYa sé quién eres! Detrás de cada página troquelada, el pequeño lector encontrará una...
Plus d'infos
Zoom! Los viajes de Gato y Perro/ Travels of Cat and Dog: Los Viajes de Gato y Perro/ The Trips of Dog and Cat
By Jim Davis ( Author ) [ Garfield Fat Cat 3-Pack #10: Contains: Garfield Life in the Fat Lane (#28); Garfield Tons of Fun (#29); Garfi Eld Bigger and Better (#30)) Garfield Fat Cat Three Pack By Feb-1999 Paperback
By Jim Davis ( Author ) [ Garfield Fat Cat 3-Pack #10: Contains: Garfield Life in the Fat Lane (#28); Garfield Tons of Fun (#29); Garfi Eld Bigger and Better (#30)) Garfield Fat Cat Three Pack By Feb-1999 Paperback
Plus d'infos
The Eleventh Garfield Fat Cat 3-Pack: Contains: Garfield Strip Numbers 31, 32, and 33 (No.11) by Davis, Jim (1999) Paperback
Garfield Fat Cat 3-Pack #9: Contains: Garfield Hits the Big Time (#25); Garfield Pulls His Weight (#26); Gar field Dishes it Out (#27) (No 3) by Davis, Jim (1998) Paperback