Bandes dessinées The Sea
10 produits trouvés
The Red Sea Sharks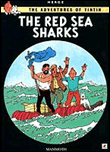 The red Sea Sharks
Série Tintin - Hergé (Dessinateur) - Paru le 29/08/2031 chez Casterman
Plus d'infos
The secret city under the sea
Book by Paul S Newman
Plus d'infos
It Came from Beneath the Sea... Again

Buck Danny - tome 2 The secrets of the black sea
Série Buck Danny - Francis Bergèse (Illustration) Jacques De Douhet (Auteur) Francis Bergèse (Dessinateur) Jacques De Douhet (Scénario) - Paru le 04/03/2010 chez Cinebook
Plus d'infos
Los Cinco Junto Al Mar/the Five Go Down to the Sea
Los Cinco están de vacaciones. Pero las vacaciones de unos chicos como ellos no pueden ser como las de los demás. Así que se disponen a vivir una de sus arriesgadas e intrépidas aventuras. Esta vez todo empieza...
Plus d'infos
[Corto Maltese: The Ballad of the Salt Sea] (By: Hugo Pratt) [published: March, 2012]
El mar de los monstruos/The Sea Of Monsters: Percy Jackson Y Los Dioses Del Olimpo
Running Away to Sea: Round the World on a Tramp Freighter by George Fetherling (11-Mar-2009) Paperback
[( The Bobbsey Twins Collection, Volume 4: on Blueberry Island; on the Deep Blue Sea; in Washington )] [by: Laura Lee Hope] [Dec-2012]
The Bobbsey Twins Collection, Volume 4 One of the longest running story series for children is \"The Bobbsey Twins\" and it has delighted children and their parents for over a hundred years now. Follow the adventures of...
Plus d'infos