Bandes dessinées Vol 10
14 produits trouvés
YAKARI VOL.10
En cada nueva aventura, Yakari se alía con un animal salvaje diferente con el que se comunica para hacer comprender a los más pequeños la importancia de respetar la naturaleza. En estas dos nuevas aventuras, Yakari...
Plus d'infos
Pat'apouf détective, Tome 10 : Pat'apouf et le vol des bijoux
Betelgeuse Vol.1: The Survivors by Leo (2009-10-01)
Yuyu Hakusho Vol. 10 (Yuyu Hakusho) (in Japanese)
Marvel Masterworks, the Fantastic Four, Vol. 2, Nos. 1-10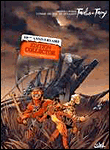 Trolls de troy T03 Op 10 ans Comme un vol...
Série Trolls de Troy - Jean-Louis Mourier (Dessinateur) Christophe Arleston (Scénario) ARLESTON-C MOURIER-J.L (Auteur) - Paru le 20/06/2007 chez Soleil
Plus d'infos
Garfield Classics: v.1: Vol 1 (Garfield Classic Collection) by Jim Davis (1998-10-29)
Yoko Tsuno Vol 10 : Message for Eternity by Roger Leloup (7-May-2015) Paperback
Dick Herisson - Intégrales - tome 2 - Dick Herisson - Intégrale T2 (Vol 6 à 10)
Spawn Origins Vol 10 TP (Spawn Origins Collection) by McFarlane, Todd (2011) Paperback
Batman and Robin Vol. 4: Requiem for Damian (The New 52) by Peter Tomasi (June 10,2014)
Titus Crow, Vol. 2: The Clock of Dreams & Spawn of the Winds by Brian Lumley (1999-10-06)
Batman & Robin, Vol. 1: Born to Kill (The New 52) by Tomasi, Peter J. 1st (first) Edition (7/10/2012)
Batman And The Outsiders TP Vol 01 The Chrysalis (Batman & the Outsiders) by Various (Artist), Chuck Dixon (10-Oct-2008) Paperback